V-HULL Trailer Rental Pricing
Fits boats like speedboats, runabouts, deck boats, center console boats, or skiffs. Trailers to fit 16-30 ft. length.
| | | | |
| --- | --- | --- | --- |
| LENGTH | DAILY | 2 DAY RATE | WEEKLY RATE |
| 16-22 ft | $119 | $199 | $649 |
| 22-24 ft | $139 | $229 | $759 |
| 24-26 ft | $159 | $259 | $869 |
| 26-28 ft | $199 | $329 | $1089 |
| 28-30 ft | $229 | $379 | $1249 |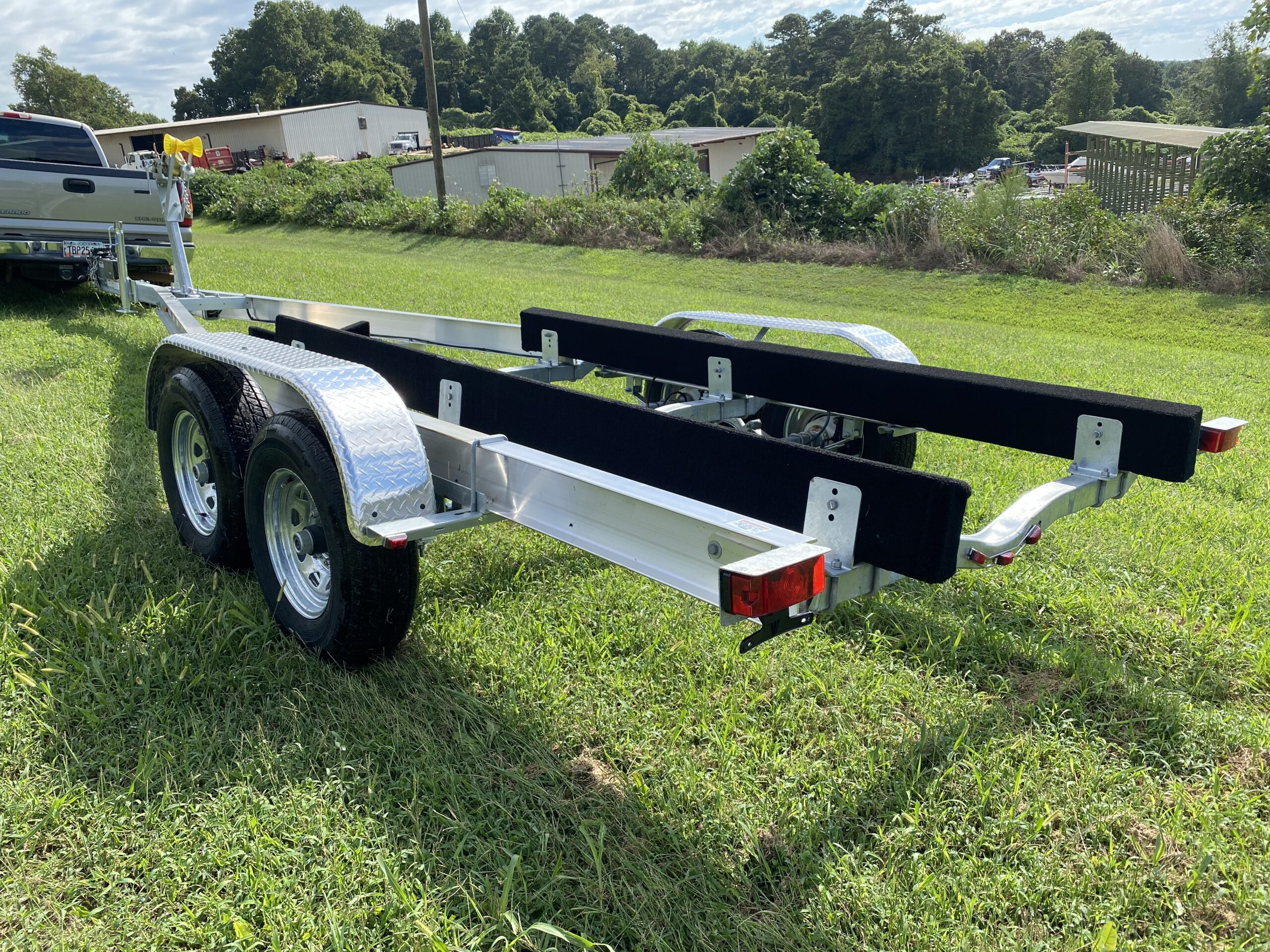 Inboard Trailer Rental Pricing
These trailers are perfect for shaft-driven boats with inboard engines such as ski boats, sport fisherman, and cabin cruisers. Trailers to fit 20-26 ft. length.
 LENGTH

 

 DAILY

 

 2 DAY RATE

 

 WEEKLY RATE
20-22 ft

$129

$219
$699
22-24 ft

$179

$299
$979
24-26 ft

$229

$379
$1249
Pontoon/Tritoon Trailer Rental Pricing
These trailers are specifically designed for pontoon boats and tritoon boats. These are not scissor trailers. These are heavy-duty bunk trailers that offer a safe and stable towing experience. Trailers to fit 8-30 ft. length.
 LENGTH

 

 DAILY
2 DAY RATE

 

 WEEKLY RATE

 

18-22 ft

$119

$199
$649
22-24 ft

$150

$229
$759
24-26 ft

$159

$259
$869
26-30 ft

$225

$329
$1089
PWC Trailer Rental Pricing
These trailers are for PWC, Jet Ski, or a dinghy. We have trailers for single or double towing. Trailers to fit 10-12 ft. length.
 LENGTH
 DAILY
 2 DAY RATE

 

 WEEKLY RATE

 

Single
10-12 ft

$79

$129
$429
Double
10-12 ft

$119

$199
$649
Reserve Your Rental Boat Trailer Now
Please expect a call or text from the our team to confirm your rental reservation.
Thank you for choosing us.
BOAT TRAILERS FOR RENT STYLES AND DESCRIPTIONS
Choose the boat trailer that fits your boat
Bunk Boat Trailers For V-Hull Boats: Bunk boat trailers are the most common type of trailers with minimal moving parts, making it very easy to use. With a qualified boat driver and a tow vehicle driver, a bunk boat trailer makes both loading and unloading a snap. It can be such a fast and seamless process that bystander's jaws can drop when they compare it to their long drawn out process at the boat ramp. We rent bunk trailers for V-hull boats from 16 ft. to 30 ft. length.
Ski Boat Trailers: We rent boat trailers specifically to accommodate inboard boats and ski boats from 20ft. to 26 ft. length. You'll be travelling, loading, and unloading like a pro.
Pontoon Boat Trailers: Pontoon boat shapes and sizes are diverse, and we provide pontoon trailer styles to match any pontoon boat and make your hauling experience easy, seamless, and secure. Up to 30 ft. length.
Tritoon Boat Trailers are specialty trailers for hauling large heavy tritoon boats that often have sizable outboard motors. These heavy-duty tritoon boat trailers are designed for maximum stability when hauling. We offer several models to meet your needs and your desires. Most importantly, when you go down the road you know that your load is stable, and your investment is safe and secure. Up to 30ft. length.
Personal Watercraft Trailers: Get the right trailer for your Jet-ski or personal watercraft. We have personal watercraft trailers for hauling one or two watercraft. A well-matched personal watercraft trailer makes loading, unloading, and hauling a breeze. And you'll look great doing it.
Skiff Boat Trailers: Haul your skiff easily and safely with the perfect skiff boat trailer to match your boat's shape and size. Drive at speed on the highway or country roads and be confident that your boat is secure and riding smoothly. Enjoy peace of mind with the right skiff boat trailer perfectly suited to your needs.
Commander Line Boat Trailers: These are the boat trailers built for the long haul and unmatched durability. Haul your boat cross-country with a Commander Line Boat Trailer and have the confidence of a pro, knowing that your investment is riding atop the best trailer in its class.
Other Trailers For rent:
45 ft. flatbed trailer with gooseneck and mega ramps for moving heavy equipment.
Car hauler trailer. Dual axel, single car.
Enclosed toy trailer for ATV's, motorcycles, and more.
Utility trailers
Landscape trailers
Hydraulic dump trailers
Everything You Need to Know About Renting a Boat Trailer From Trailers and Transport
Have your boat specs handy. The type of boat, length, width, and weight.
Call us, or sign up online to reserve your trailer. Have a credit card ready to confirm your reservation. This will be your payment method at the time of rental unless you arrange otherwise.
Our rental period is one business day, so the trailer needs to be returned by closing at 5 pm. You can arrange to return the trailer the following day by 9 am for a reasonable fee.
Have the correct hitch and ball size for your rented trailer. If you need a different sized ball, Ace Hardware is just nearby and has a full selection of hitch parts available.
Have an electrical plug for trailer lights (and trailer brakes if applicable). We stock plug adapters if you need one.
Know how to drive with a boat trailer. If you need instruction on backing up a trailer and launching a boat, please click here to learn more.
Understand that you are financially responsible for any damage to the rental trailers. All of our trailers are in excellent condition, so please treat the equipment gently.
Return your rental trailer by 5 pm, or arrange for an extended rental period and return the trailer by 9 am the following day.
We Rent Trailers for pontoon boats and tritoon boats up to 30 ft., trailers for deck boats, center console boats, fishing boats, and V-hull boats up to 30 ft., trailers for ski boats 20-26 ft., and both single and double PWC trailers.
We Also Rent flat bed trailers, car-hauler trailer, box trailers, and utility trailers.
We sell our rental boat trailers at the end of every season. If you enjoyed your trailer experience, look into buying a used trailer a great price at the season's end.