Boat Transport in just a few Clicks
Our service makes organizing your boat transport easy, because it only takes a few online clicks. We take care of all logistics and permitting requirements to ensure smooth safe transport of your valuable asset.
We are a full-service company. Oftentimes, special preparations are made for large boats including removal of towers, antennas, radar, frames, and more. Since we are marine professionals, your boat is prepped for transport with knowledge and experience. Upon arrival at your destination, your boat is fully reassembled to the highest marine standards.
Interstate Boat Transport with Shrink Wrap Option
We recommend our Shrink Wrap option for long distance travel. This protects the entirety of your boat from road grime and debris. Upon arrival, the plastic is removed and your boat is perfectly clean and ready for immediate use.
We transport boats overland for all styles and sizes up to 45 feet length. We seamlessly deliver safely and on time from your custom pick up location, to your desired destination. You can expect friendly, courteous, professional door-to-door pick up and delivery of your boat.
Finding the Perfect Interstate Boat Transport Company
When it comes to transporting your vessel across state lines, selecting the right boat transport company is of utmost importance.
You need a team that not only understands the intricacies of interstate transportation but also treats your vessel with the care and attention it deserves.
Here are some essential factors to consider when making this crucial decision:
1. Seek out specialists in interstate boat transport: To ensure a seamless experience, opt for a company that specializes in moving boats across state borders. These experts possess extensive knowledge and experience in handling all aspects of long-distance transportation.
2. Verify credentials and insurance coverage: Before entrusting your valuable vessel to any transporters, verify their licenses and insurance policies. This step guarantees compliance with industry standards and provides adequate protection for your yacht during transit.
3. Assess reputation through customer reviews: Take the time to research different companies thoroughly by reading customer reviews or testimonials. A reputable boat transport provider will have an abundance of positive feedback from satisfied customers who have previously utilized their services.
4. Evaluate equipment quality and resources: Inquire about the trailers or carriers used by each company for transporting boats over long distances. Ensure they possess top-notch equipment specifically designed for safely hauling vessels overland.
5. Explore additional services offered: Some boat transport companies go above and beyond by providing supplementary services such as shrink-wrapping, winterization, or storage options at their facilities if needed. Consider these value-added offerings when making your final decision.
6.Compare quotes from multiple providers: To make an informed choice, request quotes from various boat transporters. This allows you to compare prices alongside other critical factors like reputation, experience, and service quality.
7.Make a well-rounded decision based on cost-effectiveness, service excellence,and stellar reputation: While cost plays a role in choosing a boat transporter, it should not be the sole determining factor. Take into account all aspects, including service quality, reliability, and the overall reputation of each potential provider. By following these expert guidelines when selecting an interstate boat transport company, you can ensure a smooth and stress-free experience for both yourself and your vessel.
Remember to prioritize expertise, reputation, and customer satisfaction throughout your decision-making process.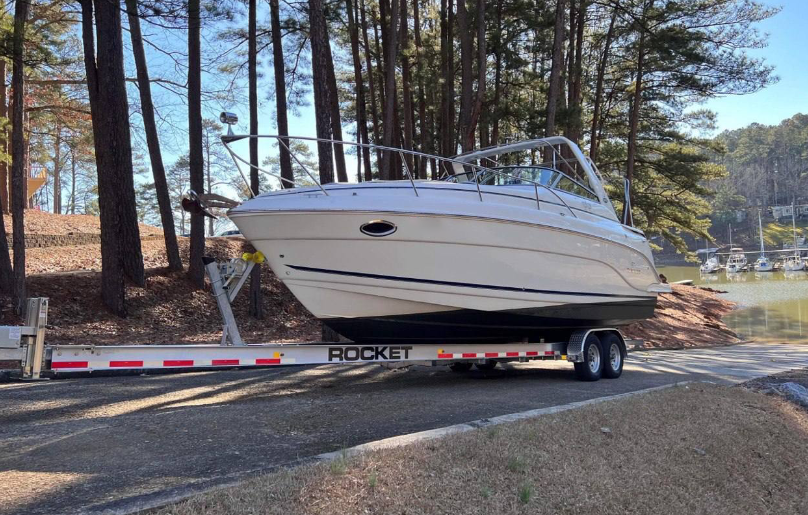 Rest assured, that we are permitted, licensed, bonded, and insured specifically as a Professional Boat Transport Company with years of experience transporting a wide range of vessels.
Trust our specialized drivers to safely transport your valuable asset, carefully comply with interstate regulations, and create peace of mind for you as our client.