Trailers and Transport has established itself as the premier boat transport company serving the Southeastern Region of the U.S.
We are an official US DOT licensed transport service. Licensed, Bonded, and Insured specifically for Boat Transport. Our clients enjoy peace of mind as we fully comply with all rules and regulations for interstate and regional boat transport. We transport valuable assets, and take responsibility for ensuring safe boat delivery free from worry.
We specialize in overland boat transport because we are seasoned marine professionals. We are experts in all facets of boat care. At times, some disassembly of towers, radar, antennas, etc. is required for safe transport. This service is performed by a team of marine professionals. Upon arrival at your boat's destination, your components are reinstalled to the highest level of integrity.
As a service to our interstate boat transport clients, we administer all permits required and comply with all regulations for transporting oversized loads.
Additionally, we own a fleet of top-quality boat trailers to accommodate all styles and sizes of boats up to 50 feet in length. So if you don't have your own trailer, we can provide the right equipment to ensure safe boat transport.
Our most common pick up and delivery locations for transporting boats overland are in the states of Georgia, Florida, South Carolina, North Carolina, Alabama, Louisiana, Arkansas, Texas, Tennessee, and Kentucky. However, we professionally deliver boats to any location in the U.S.
Our boat transport customers include new boat dealers, yacht brokers, private owners, and insurance companies.
In addition to Boat Transport, we have positioned ourselves as the top provider for Boat Trailer Rentals in the state of Georgia.
We own, maintain, and continually expand our fleet of top quality boat trailer rentals to accommodate all sizes and styles of boats up to 50 feet in length. We rent like-new trailers for V-hull, Inboard, Pontoon, Tritoon, Skiff, Jet Ski, and more.
We pride ourselves in creating an easy hassle-free transaction to rent a boat trailer. We are committed to providing a perfect fitting trailer so you can tow your boat safely with confidence.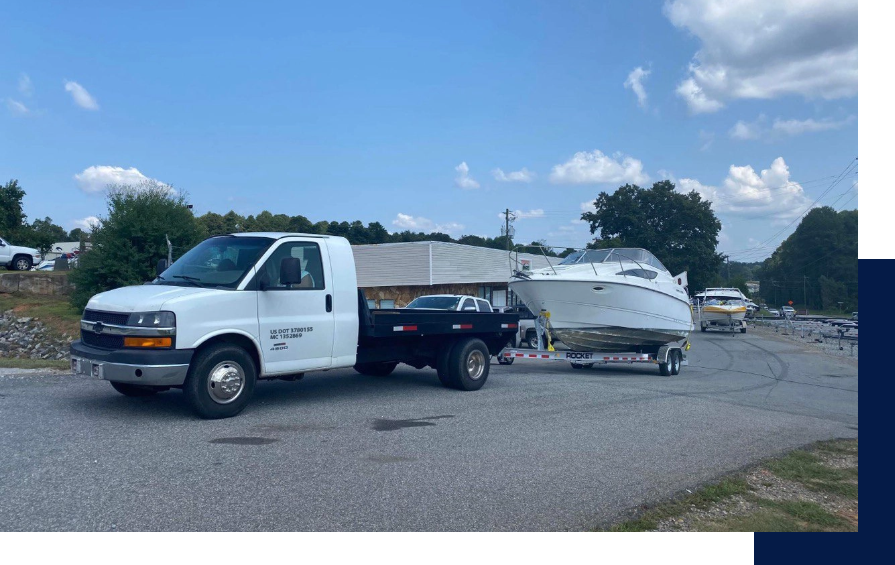 Dane Michael
is the President and CEO of Marine Performance Group. A company that is synonymous with integrity and excellence in the Marine Industry. Dane is committed to being a leader to provide boater services that inspire our clients trust and satisfaction that keeps them returning year after year.
Tom Wiesen
is the creative content writer for Trailers and Transport and brings with him a lifetime of boating experience from power boats, to sailboats, to competition ski boats. Tom is experienced with boating on inland lakes, the Great Lakes, as well as boating in many oceans around the globe. In alignment with our entire staff, we all share boating in common, and bring with us diverse knowledge and expertise in the marine industry.
James
is the sales manager for Trailers and Transport and is committed to providing our clients seamless service when it comes to arranging boat transport, or matching the perfect rental boat trailer to match your craft. James has built a reputation for excellence and trust when it comes to transporting your valuable asset.
Mark
is our assistant manager, and promptly responds to all leads and inquiries. Mark and James work hand in hand to ensure that when you're ready to arrange a transport, or do a trailer rental, that everything is in place so it is a seamless and enjoyable customer experience from start to finish.