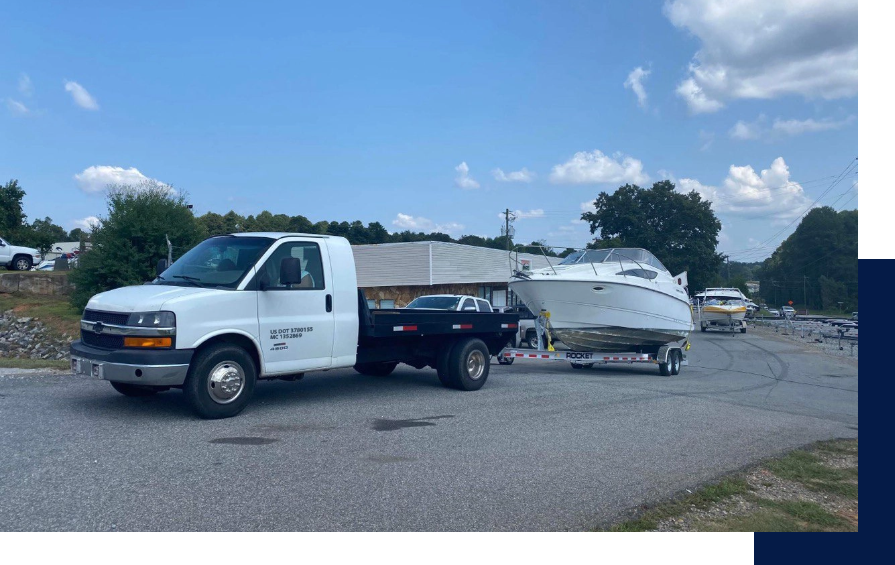 Georgia Boat Movers
Howdy, y'all! Looking to transport your boat without a hitch? You've landed in the right place! At Trailers and Transport, we're the undisputed experts in boat hauling, located right in the heart of Gainesville, GA. With our world-class service, moving your boat across the lower 48 states ain't just simple, it's a breeze!
We've got years of experience under our belt, so trust us when we say, "We don't just haul boats, we deliver promises!" From bass boats to pontoon boats, there ain't no boat too big or small. Our top-notch services are customized to fit your needs, ensuring your beloved vessel reaches its destination safely and timely.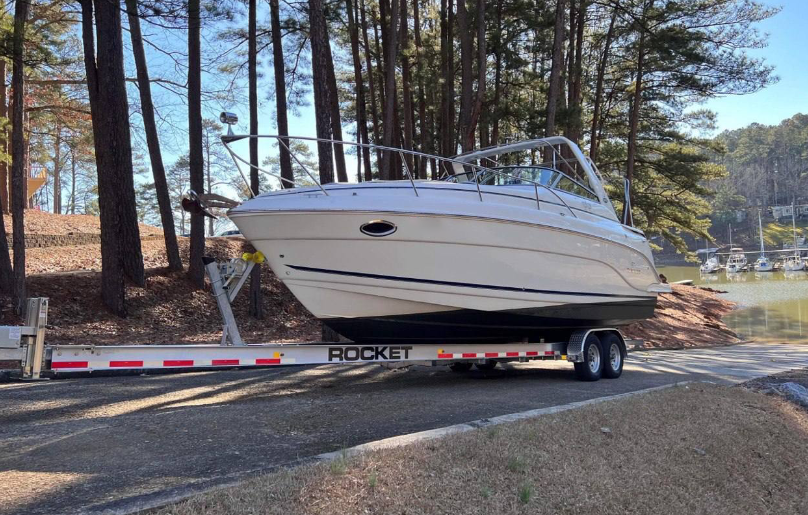 10 Things to Know about Choosing the Right Boat Transport Company
Experience Matters: The more years in the biz, the better. A seasoned boat transporter has seen it all and knows how to handle any situation.
Equipment is Key: Quality transport depends on quality equipment. Make sure the company has the right gear for the job.
Insurance Coverage: Accidents happen. That's why a solid insurance policy is a must.
Fair Pricing: A reasonable quote is important, but beware of prices too good to be true. You get what you pay for.
Reputation Counts: Check online reviews and ratings. Word-of-mouth ain't no joke in this business.
Responsive and Professional: Good communication is critical. You should always know the status of your precious cargo.
Permits and Compliance: Boat hauling has its rules. A reliable company stays up-to-date with all necessary permits and regulations.
Flexible Scheduling: Your transporter should work around your timeline, not the other way around.
Nationwide Service: A great transport company offers services across the US. We are based in Gainesville GA, but we transport boats to and from a variety of locations we are the boat transport company near you.
Secure Delivery: Your boat should arrive safely and in the same condition it left.
At Trailers and Transport, we fulfill these requirements and more. With our expertise, your boat's journey will be safe, secure and properly monitored.
Hire us – Your Trusted Boat Transport Company
So, what are you waiting for? Whether you're hauling a speedboat across state lines or a cruiser down the coast, Trailers and Transport is your go-to solution for all things boat transport near Georgia. Get in touch with us today, and let's make some waves together!
What Is the Cost of Boat Transport?
Unraveling the precise cost of boat transportation can be convoluted due to various influential variables. However, to offer a general ballpark, short-range transport tends to fluctuate between $150 and $300, while longer hauls can range from $600 to $1,000.
The cost of transporting a boat is $5 per mile but these would vary with the price of gas and routes taken. We encourage you to contact our team and get a quote because the prices we sample here are not variable.
Here are some of the factors which may affect the Transportation of your Boat
Below, we've highlighted crucial factors affecting the price of boat transportation:
Journey's Length
The price surges or plunges depending on the transportation range. Domestic transportation within the US, usually facilitated by trailers, is notably cheaper than international routes. If your boat is voyaging internationally, consider options such as Roll-on/Roll-off (RO/RO), enclosed containers for standard-sized vessels, flat racks for larger boats, or submersion for water-based loading and unloading.
Boat's Size
A considerable factor affecting the cost is the boat's dimensions. Standard-sized boats fit in enclosed containers for international travel, whereas larger ones demand more complex arrangements and routes.
Trailer Requirements
Whether you're providing your trailer or require one from us, at Trailers and Transport, can influence the overall cost.
Pickup And Delivery Locations
The accessibility and proximity of your pick-up and delivery spots could incur additional costs, especially if located in remote areas.
Season
Weather and seasonal conditions, such as ice, wind, and snow, can alter routes and thus, the price.
Getting a Precise Quote To obtain an accurate quote from boat movers like Trailers and Transport, it's vital to provide the exact dimensions of your boat. Here's a brief guide to measurements:
Overall Length
Measure from the extreme end of the bow to the middle of the stern.
Overall Height
Measure from the highest (non-removable) point of the boat to the bottom of the keel.
Beam
The beam, or the width, is measured from the two widest points.
A 'standard' boat is approximately 40′ long, 7'10" high, and 7'8″ wide. Boats exceeding these dimensions may require special permits.
How Can Trailers and Transport Help?
Navigating the sea of boat transport companies can be overwhelming. That's where Trailers and Transport steps in. Simply enter your boat's make, measurements, and pickup and drop-off locations on our platform, and receive custom quotes right in your inbox. Our robust feedback and review system ensure reliability, while our platform allows for detailed discussions.
An added advantage of choosing Trailers and Transport is that we often fill existing routes with extra loads – a cost-effective and environmentally friendly practice, saving you up to 75% of standard rates.
Getting Your Boat Ready for Transport
Once you've picked a quote, prepare your boat for transport:
Documents
Keep all necessary papers, especially for sales or international travel, readily available.
Cleaning
Thorough cleaning helps remove personal and valuable items and assess the boat's condition. Secure any loose items and disconnect the battery.
Empty Liquids
Empty the bilge, refuse stores, and fuel to reduce weight and prevent potential leaks during transit.
Remove Sails
For sailboats, remove all winches and rigging from the mast.
Photographic Evidence
Document the boat's condition with time-stamped photos for reference in case of any damage during transport.
Post Delivery Vessel Inspections
Check the boat's engines and electronic equipment for functionality, and compare the boat's exterior condition with pre-pick-up photos to spot any potential damages.
Once the process is complete, we encourage you to rate and leave feedback for Trailers and Transport.
Click here for our Google Business where you can see a lot of fantastic customer reviews for our boat transport service!
It aids future customers in making an informed decision and allows us to understand your experience better. We are committed to ensuring a satisfying and seamless experience for you. We value your thoughts and encourage open communication to continuously improve our services.
Ultimately, partnering with Trailers and Transport not only assures you of a safe and efficient boat transport service but also provides you with a cost-effective solution. We take pride in our reputation for reliable and customer-focused services. Our team is always ready to guide you through the process and address any questions or concerns.
Embrace the tranquility of knowing your boat is in safe hands with Trailers and Transport. We look forward to transporting your vessel to its new home!
Don't hesitate – connect with us today to commence your boat's voyage.